Mastic Asphalt Roofing London
Enright Roofing Ltd in London for Flat Roofs, Balconies, Steps/Stairs and Walkways.
CONTACT US FOR A FREE, MASTIC ASPHALT ROOFING ESTIMATE & ADVICE.
Before/After : Mastic Asphalt applied to balcony
at The Bentley Hotel, Kensington, London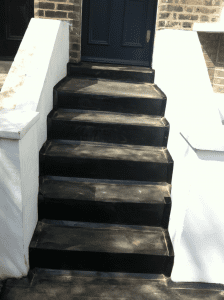 ASPHALT STEPS
As well as being the preferred material for flat roofs, Mastic Asphalt is ideal for steps, stairs and walk ways because it is a very durable material.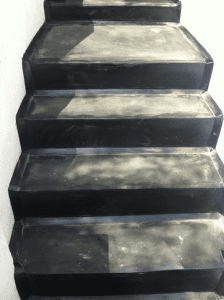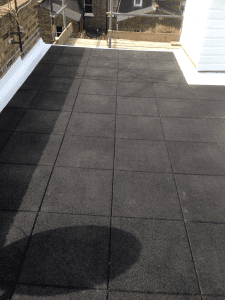 ASPHALT ROOF BALCONY WITH PROMENADE TILES
Promenade Tiles are ideally suited to roof terraces, balconies and flat roofs.
These tiles can be used to great effect where attractive, durable and weatherproof surfaces are required.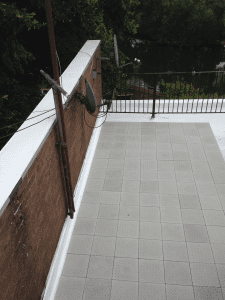 Roofing services include mastic asphalt roofing, built up felt roofing system, slating, tiling and lead sheet roofs. We also repair asphalt stairs. Our roofers specialise in mastic asphalt roofing and have completed a lot of this type of work in Chelsea, Kensington and Putney. Call us to discuss your requirements for roofing installation or repair in central London.
Types of Work and Materials
New roof installation. Minor/major roof repairs. Renewals to existing roofs, balconies, extensions and garages. Our roofing installers carry out work efficiently and to a very high standard at competitive prices. Lead is used mainly for domes, barrel shaped roofs and guttering and can also be used for flat roofs. Lead work is considerably more expensive than asphalt or felt due to the cost of materials and labour. Built-up felt roofing systems can be applied by a 'roll and pour' process using hot bitumen or a torch on method, which is equally efficient.
---
Areas covered for Mastic Asphalt Roofing in London:-
Enright Roofing provide roofers in London including Barbican, Barnes, Battersea, Bayswater, Belgravia, Blackheath, Bloomsbury, Camden, Chelsea, Chiswick, Churchill Gardens, City of London, Clapham, Clerkenwell, Covent Garden, Dulwich, Finsbury, Fitzrovia, Fulham, Greenwich, Hammersmith, Hampstead, Highgate, Holborn, Islington, Kensington, Kew, Kingston, Knightsbridge, Leicester Square, Marylebone, Mayfair, Mortlake, Notting hill, Old Street, Paddington, Pentonville, Piccadilly Circus, Pimlico, Putney, Richmond, Shaftesbury Avenue, Shepherds Bush, Shoreditch, Soho, South Kensington, St James's, St Johns Wood, St Katherine's & Wapping, Temple, Victoria, Wandsworth, Westminster, Whitechapel and Willesden.